Am I a Good Candidate for Abdominoplasty?
Patients suffering from excess and loose skin on the lower abdomen, of both men and women, is very stubborn and resistant to diet and exercise. No amount of discipline or a healthy lifestyle can tighten this excess skin for many patients. A slimmer abdominal contour can only be achieved through an abdominoplasty/tummy tuck procedure.
A good candidate for abdominoplasty is one who has loose abdominal skin as a result of pregnancy, drastic weight reduction, or normal signs of aging. It is important to note that an abdominoplasty/tummy tuck is not a substitute for weight loss or exercise. You should lose the weight you plan on losing and wait until you are done having children before considering a tummy tuck procedure.
Tummy Tuck Consultation
During your initial consultation, Dr. Totonchi will provide all the information as well as set expectations for patients. He will determine if you are a candidate for a mini-tummy tuck or full abdominoplasty. Both procedures will improve your contour but you may not be a candidate for a mini tummy tuck. The main difference between these two procedures is the length of the incision, the area of the abdomen that you will notice muscle tightening improvement, the belly button, and the recovery time.
Tummy Tuck Procedure Details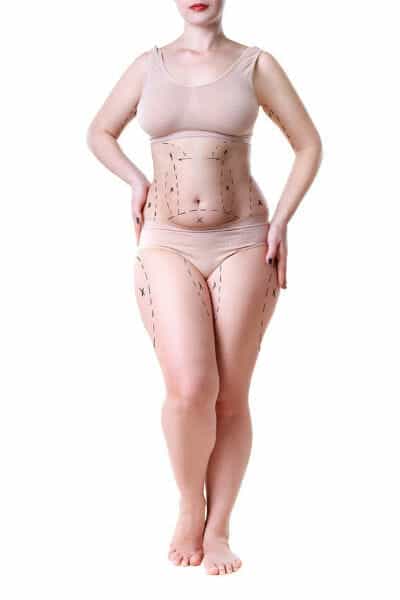 A full abdominoplasty has an incision from hip to hip with muscle tightening from just below the rib cage to the pubis, with a scar around the navel. The recovery time is longer with a full abdominoplasty due to more extensive work and surgery. Most people feel ready to return to work in 2-4 weeks and return to full activity in 4-6 weeks. The abdominoplasty procedure starts with an incision that is made on the lower abdomen, above the pubic area, and the excess skin and fat is removed. The underlying abdominal muscles are then tightened by suturing them together to achieve a leaner appearance. The navel is then repositioned prior to pulling down the skin to remove any more excess tissue. Drains are then placed under the skin to help collect any body fluid accumulation after the procedure. You will be given a drain record and will be shown how to empty those drains and keep a log.
Full Abdominoplasty vs. Mini Abdominoplasty
The mini-abdominoplasty has a shorter surgical incision, with less improvement in muscle tightening and tightening since only the skin below the umbilicus is tightened. There is no scar around the navel since it has not been repositioned. The recovery period is shorter for the mini tummy tuck and people feel ready to return to work in 1-2 weeks with full activity in 3-4 weeks.
You will be required to order a compression garment that Dr. Totonchi will choose from Marena Comfort Wear. You will order this to have with you the day of surgery and you will go home wearing your garment. This garment is generally worn for 4-6 weeks.
What Should I Expect After Abdominoplasty?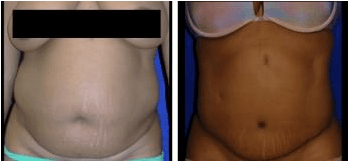 The results of an abdominoplasty are noticeable immediately after the procedure and people can appreciate their slimmer and leaner appearance. You can and will have some swelling to the abdomen for 4-6 weeks while healing.
Standard postoperative exams are scheduled for all our patients a week after surgery. The wound dressings and drains will remain intact until your first post-operative visit. You will keep your compression garment on until seen at that same visit. Dr. Totonchi reminds his patients to take it slow and regulate their activities until they have healed completely.
For more information about tummy tuck surgery in Cleveland, schedule an appointment, or call us today at (440) 461-7999.